This article is designed for: User Type: All Users - Employees, Admins and Managers Access: Web Browser
Logging on as an employee on a computer will land you on the My Calendar screen. Admins and Managers will need to click on the My Calendar tab. My Calendar tracks your shifts, any available Open Shifts or Shift Swaps and any leave requests you have that are approved or pending.
NOTE: Open Shifts and Shift Swaps are enabled/disabled from the admin account and may not be enabled at your workplace.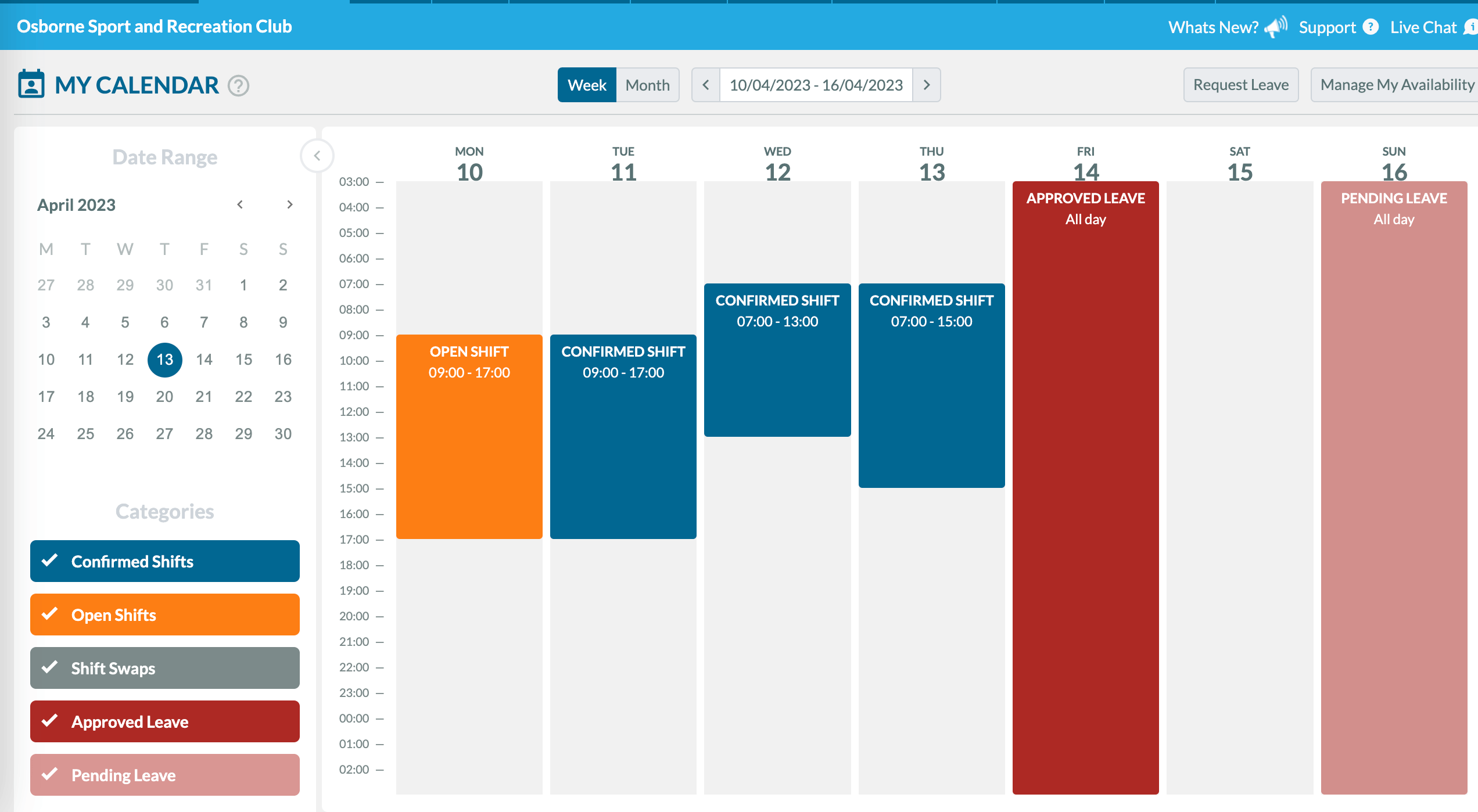 My Calendar Overview
Before we dive into specifics around the different types of items shown on the calendar, we will cover how to navigate the My Calendar screen.
You can:
switch views from week to month and move back and forth between dates to see activity in the past and into the future.
tick and untick categories if you want to view only specific items on your calendar
collapse the side menu options to focus your view on the main calendar view. When collapsed, if you are on a computer, you can hover your mouse over the left-hand side to have the side menu pop up when required.
click on the items in your main calendar view for more information.
Confirmed Shifts
You will see all your shifts historically and into the future published by your workplace. When clicking on a shift in the main view. You will see more information about the shift, including the date and time, which site, position, and any Shift Notes or Roster Notes, if applicable.
Shift Notes: Shift notes are notes added to the specific shift you've been assigned and are not visible to other staff. They are often used for tasks you must do for the day.
Roster Notes: Roster notes are published to all staff rostered during the roster period. So if your workplace does rosters from Monday to Sunday, all staff who have shifts during the period will see the roster note. This might be used for events or projects the team needs to focus on for the week.
Notes are added by the staff responsible for rostering. Please check with your managers/admins if you have questions about the notes on your shift.



Shifts in the past: If you clock in and out of shifts at your workplace, past shifts will show the times you clocked in and out.
Shifts in the future: If your workplace has enabled shift swaps, subject to the cut-off timeframe that your workplace allows (between 0 - 48 hours), you can click on the shift and request a shift swap for shifts you cannot fill.
Leave Requests
From My Calendar, you can request, cancel, and check your leave status (pending or approved).
Request Leave allows you to submit and delete leave requests to be approved by management.
Availability
Manage My Availability allows you to set your standard availability and add availability sets for weeks when your schedule changes.
Open Shifts / Shift Swaps
Depending on your company's account settings, you may also see available shifts on offer, namely, shift swaps or open shifts.