This article is designed for: User Type: Admins Device: Web Browser (Computer)
To get started, you will need to add your site. We have created the first one for you, but please add any additional sites you would like to roster or click on your existing site to edit it.
Sites can be used in different ways. Here are some examples for consideration:
A physical location for an entire business like a small RSL
Different departments for large organisations (e.g. Kitchen, Wait Staff, Bar, Reception, etc.)
Steps
1. Click on the Sites tab at the top of your screen.
2. You can either click the Plus (+) button to the top left of the screen to add a new site or click on an existing Site to open up the Info tab.

3. Fill in any blank fields on the Info tab and click Update. For now, we will leave the Staff Working In This Site (+) for later in the process.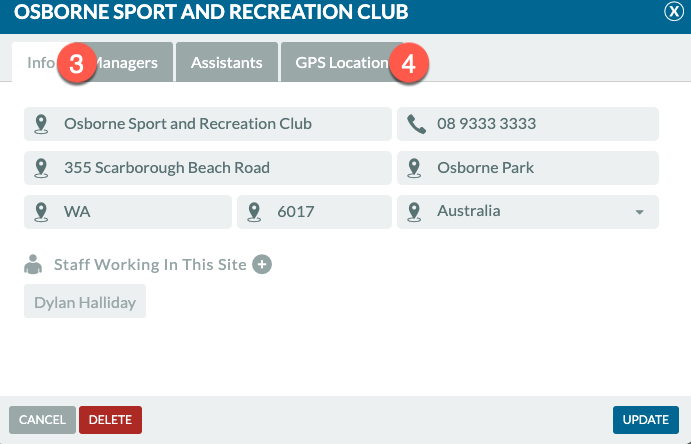 4. If you plan to allow employees to clock in from their smartphones, click on the GPS Location tab when editing a site to add the GPS location. Start typing in the address, select the google result and click Update.
Smartphone clock in/out uses geofencing, which means your staff member's phone must be within a set radius from the site before using the feature. Setting the radius is covered later.
We'll return to the Manager and Assistant tabs later in the setup process.